Pollard Professional Recut Services provide every path for cut quality improvement in a diamond, as well as staff training and strategic development at every level from manufacturing to grading to sales.
Diamond Improvement
We specialize in all major laboratory cut metrics and three-dimensional cut precision standards not yet graded by USA labs. From simple repair or restoration to optimizing your inventory to GIA EX, AGSL Ideal (Platinum), H&A precision and beyond; we communicate all options and execute the path you choose.
Recut Paths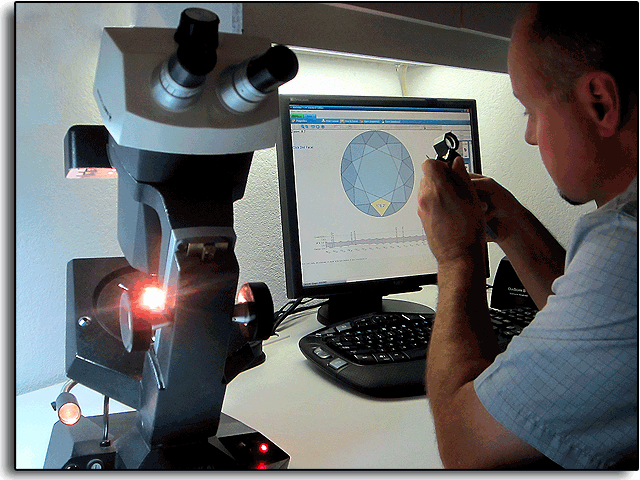 Executive
AGS Ideal
GIA Excellent
GIA Very Good
Other Requests
When we complete analysis of your diamond submission we will provide the predicted finished weight and relevant details for all five options above (more, if other requests are made).
The PPS Advantage
We know your carefully-made investments are important, so we treat each diamond as if it were our own.
Through a combination of laboratory expertise, cutting and polishing experience, familiarity with all current cut-grading metrics, modern tools, technology and spectral evaluation we determine and communicate all advantages and obstacles to improvement in a specific diamond.
This analysis is unarguably more accurate than commercially offered "recut-estimation" suggested by scanning software with no input from a cut specialist regarding the physical particulars of the specific crystal.
Process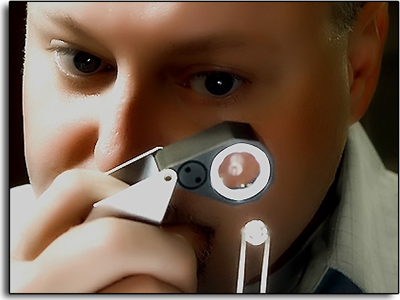 Upon check-in every diamond is tested, weighed and gemologically analyzed in our lab. We then study critical in-hand details relating to primary structure, the influence of pique, internal strain, crystal graining, and other factors relating to the recut-repair of any diamond.
Once the physical implications are understood will we create a 3D model with precisely calibrated scan technology – for a facet-by-facet geometrical analysis by which we can calculate improvement potential.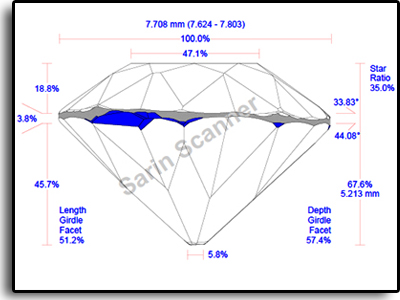 With all factors considered we map out several paths for each diamond, communicating resultant yield, and provide this to you in clear and concise communications.
You can then choose the path that best suits your market and needs, and we will move forward. When you open the parcel paper that contains your finished diamond we know you will be delighted.
Reliable Results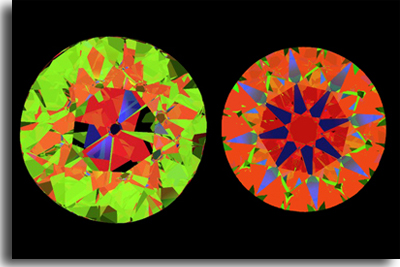 Our familiarity with all current laboratory grading metrics, coupled with both angular-spectrum and 3D cut-precision analysis (before and after) will result in demonstratable improvement that is consistent, optimal and repeatable in terms of quality and performance.
Whether your need is the most elite "Ideal H&A" diamond, AGS 000, GIA EX or something else, we have your solution in our laboratory.
Terms and Fees
Please contact us for further information.